STUDENT ACCESS AND DISABILITY SERVICES
Test-Proctoring Process
The Office of Student Access and Disabilities (OSA) offers test-proctoring services only for students who are approved for testing accommodations.  In order to use the OSA test proctoring services, the student must complete and submit a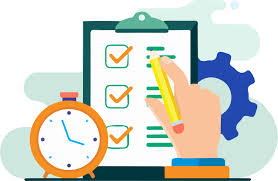 Test Proctoring Form (Word).
OR
Fillable esign Test Proctoring Form (PDF)
Please note:  The OSA will schedule exams to begin and finish/end during the 8 am-5 pm workday only. No exams will be scheduled on weekends or after normal business hours. 
The test proctoring form is easy to complete – it has 3 sections:
Section 1 : Student completes
Section 2: Professor completes AND signs
Section 3: OSA personnel/test proctor completes AFTER the exam
You will need a test proctoring form for each test you want to take through the Office of Student Access and Disabilities (OSA).
The OSA must receive the completed (first two sections) test-proctoring form no later than 5 business days before the test – it can be submitted more than 5 days prior to the test. The professor MUST sign the form before the OSA will process the test-proctoring request; otherwise, it is not complete.  Incomplete forms will not be processed.   If we receive a test proctoring form with less than 5 business days before the exam is to be scheduled, we may not be able to honor the request and the student may need to make other arrangements to take that particular test.  Remember student it is YOUR responsibility to make sure the COMPLETED test proctoring form gets to proper folder in the OSA office (normally the purple folder labeled) a MINIMUM of 5 business days prior to the test.  If the class is NOT given 5 business days' notice, please email the professor and CC jsneddon@truman.edu with the following "Professor X, because we were not given 5 business days' notice for the test on Month, Day, Year, at something O'Clock I would still like to attempt to schedule through OSA and will be contacting you ASAP to complete the test proctoring form to then submit".  Or something very similar.  The get the paper copy turned into the scheduling folder at OSA as soon as possible.
The paper copy is needed in case the director is out of the office, the lead test proctor can still find the paper copy submitted to schedule the test.
Once we receive the completed and signed test-proctoring form, a process begins, we select/schedule a test proctor and location.  All information regarding the test proctoring is sent via email – these emails will contain the specifics for your test once all the details are established and the time, proctor, and location are determined.
You may also receive an email if the proposed time for your test needs to be modified – this would be prior to finalizing the day, time, and location normally.
If you DO NOT receive a confirmation email or communication from our office about scheduling within 3 days of your scheduled exam (presuming you turned it in within the 5 business days' notice) please contact both the professor and the OSA office to ensure your test proctoring form was received.